Milkfed Criminal Masterminds'
COVID-19 Policy

Everyone we've ever done business with has emailed us to let us know about their COVID-19 response, so I guess it's a requirement or something?
We held a meeting and here are our recommendations: Be kind. Protect each other (handwashing, social distancing), drink lots of water, remember to shower and exercise and take some time to look at the sky and laugh, if you can.
We'll do the same.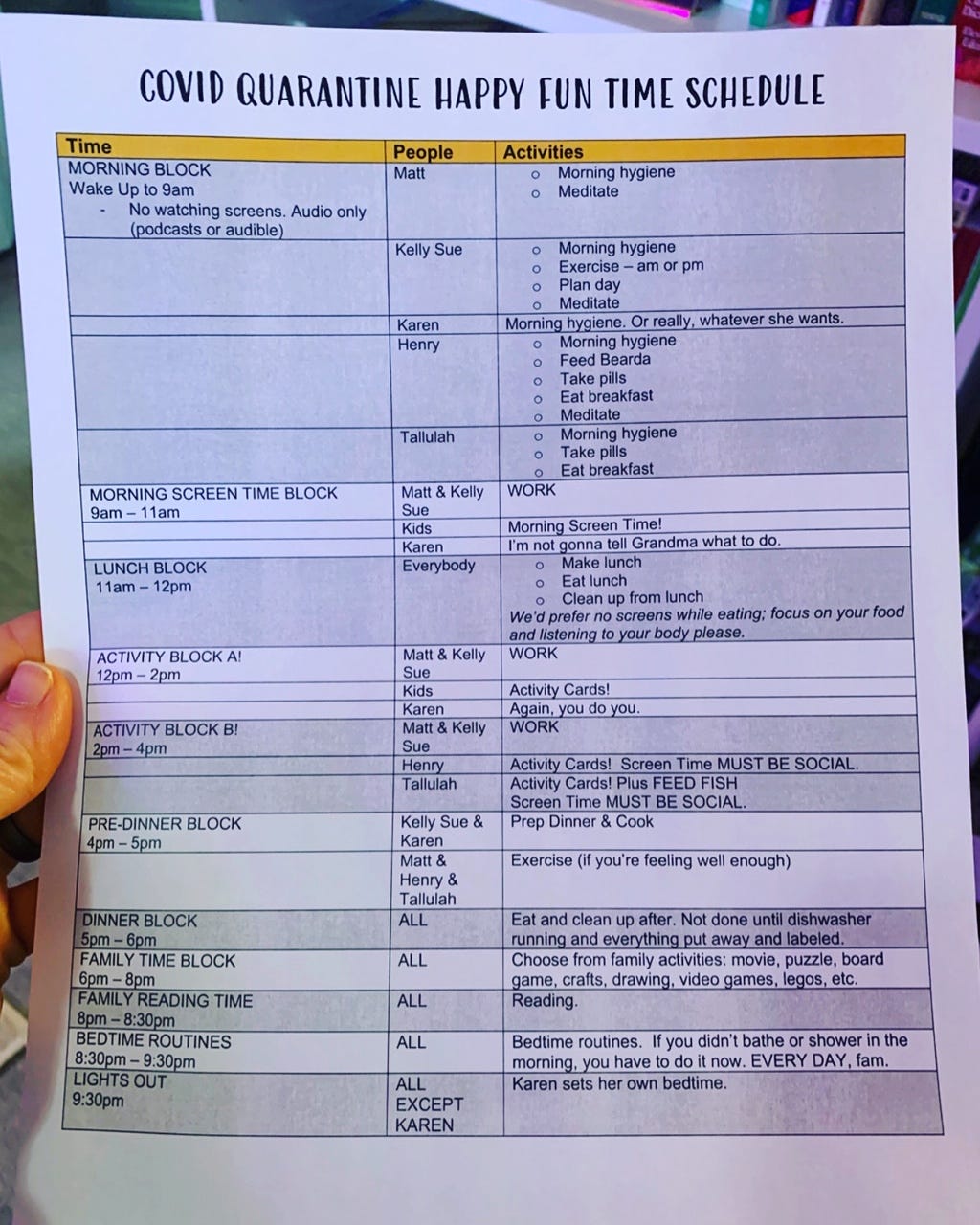 Our family likes to have a schedule, even if we're not good at sticking to it...
I'm an excellent multi-tasker,* so while I was busy not planning for the apocalypse I also managed to not plan for an extended quarantine. I know, right?! High-fives. One of my best moves was arranging to have a job that I do from home--a job with deadlines that are thus far unaffected by the crisis--while also, at the same time, having school-age children!

Ha-HA! LOOK AT ME GO.

Sigh. It is what it is. So while I don't find myself with bonus hours I need to fill, I have found it necessary to create some structure the new normal. We've got a lot of anxiety in this household--even absent a pandemic--and we find that structures and routines usually help.

* No, I'm not.
To that end, Fraction and I put together a household schedule. (That's it in the picture right above.) It's just a first draft--we're not nailing it by any means--but it gives us something to shoot for this week. Next week, we'll tweak. (Our kids are technically on spring break and we want to honor that, so there are no academics on the schedule right now.)

I put a copy of our schedule up here. Feel free to grab it if you want to use it as a template to create your own. (The bit about the Activity Cards? They're here. Pink ones are things the kids can do while we're working. The Green ones are activities for evening family time, and the Yellow ones are obligatory/chores.) -- Kelly Sue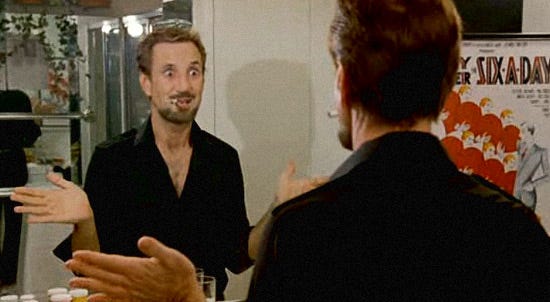 Entertainment Stuff.
Things that have been giving me pleasure, present or anticipatory.
The Imaginaries by Emily Winfield Martin. One of my favorite things to do in a museum or gallery is an exercise I think I got from Mike Doughty? It works especially well in portrait exhibitions, but you can make it work with anything, really: you take a notebook and you write a one-line story fragment for each art piece. That's it. Don't judge, just let something bubble up. Sit with it a bit, then move on to the next piece. Emily Winfield Martin's book seems to be a variation on the exercise, inspired by pieces of her own. It begs you to complete the stories she's begun.

I've been listening to The Joy of Movement and can't recommend it highly enough. As we're all out of our normal gym routines, it's helping me remember how important movement is to my... well, everything. My everything. It's also making me want to get my hands in the dirt. Portland is beautiful today. Maybe I'll do some repotting. Container garden maples need pruning, too. Any tips? (It seems the Joy of Movement author has another book called The Upside of Stress: Why Stress Is Good for You, and How to Get Good at It. Guess what I'll be listening to next.)

Speaking of moving bodies, I'm KellySueDe on Peloton, if you're there too and want to add me. I don't use it as much as I should, but since I can't get to my lifting gym right now--which bums me out more than I can tell you--I'd be wise to dig in. The online social aspect helps. But man, I miss my weights and my trainer.

Newsletters are back, I guess? Twitter sucks and I don't really read blogs anymore, but I do read newsletters. Some of my favorites come from friends: Warren Ellis, Kieron Gillen, Ed Brubaker, Chip Zdarsky, Jamie McKelvie, Austin Kleon, Sean Bonner. (Okay, I don't actually know Austin Kleon. Wishful friending.) There are others and I'm sure I'll think of them as soon as I hit send.

Oh, duh. Daily Stoic and Atomic Habits.

You know Kit Cox moved on from Milkfed, right? She's now running her dicemaking operation full time and it's incredibly cool. Check it.

Are you an alcoholic or addict in recovery? Me, too. Here are some online meetings you can check out during your quarantine. There's this too. Along those same lines, you really must follow Nicole Georges on Instagram.

We ordered a couple of Toto Washlet bidet attachments and they just arrived and I'm giddy. The funniest part is we're not even close to out of toilet paper.

This is a weird thing to mention since I haven't read it yet, but if there is a comic book out there with more favorable buzz than ICE CREAM MAN, I'm not aware of it. I look forward to getting through my stack so I can check it out too. Hella intrigued. (Looking forward to SPY ISLAND, April 1st as well.)

Oh, hey, Acker and Blacker have a new thing on Audible as well. It's a comedy about stealing kidneys, because I mean, come one.

I absolutely LOVED the Harley Quinn cartoon on the DC streaming service. Warning: It is very, very adult. "There's a whole plot point around someone calling Wonder Woman a C---!" I let Henry Leo watch it with me, because I am a terrible person and a terrible parent. But we laughed a LOT.

I hesitate to mention this one, but... here goes. I'm not much of a video gamer, but I do play little play mobile games from time to time. Mostly puzzle-based stuff. Until a few months ago, when I started playing HUSTLE CASTLE. Yeah... I know. My SON actually told me the ads for the game have some, uh, gender issues... let's call it a problematic fave, all right? I find it soothing. Anyway, if you play and you see me in Arena, say hi. My name is "Soup."

I don't know what Dance Church is but this SOUNDS great.
Some Parenting Stuff
Tallulah's school sent out this link on setting up a cardboard art activity for kids. Looks pretty cool.

Speaking of T, this isn't a resource or anything I just want to share with you that she passed her assessment and got bumped up a level in Roller Derby! We're so proud. (Before you ask, her roller derby name is DANGER THINGS. And yes, I am all about them Cricut Crafts and all things Frogmouth, duh.) You have kids in sports?

Do you have a cricut? WHAT HAVE YOU MADE? I love mine, I should use it more. Show me pictures. Tag me on Twitter or Instagram.

National Association of School Psychologists: Talking to Children about Covid-19

New York Times: 10 Questions Parents May Have About Coronavirus

Child Mind Institute: Talking to Kids About the Coronavirus

What's Going on in this Picture? Another one from T's school--a great resource for Visual Literacy. Each Monday, a photo without a caption is posted. Click on the photo and have students follow the structure provided. The children can participate individually, but there are also ways to collaborate online, too.

Wow in the World an NPR podcast for kids centered around science and technology

Raddish Cooking recipes that allow students and families to cultivate academic skills outside the traditional classroom environment--practice math, science, geography, language arts, and more

Playful learning resources https://www.playfullearning.net/free-resources/

Big Life Journal printable activities are 50% off with code STUCKHOME (I am not affiliated and get no kickback or reward or anything)

Henry Leo is doing a lot of online gaming right now. I don't know how the gamer code thing works, but I guess I need to figure that out? Be fun for him to play with our friends around the world. He plays Minecraft, I know. I think Tallulah does something called Roblox? Road Blocks? I am an excellent and attentive parent.

Does anyone have an ADD or ADHD podcasts to recommend?
BAM! POW! Comics Stuff.
Comics news: IMAGE COMICS Publisher Addresses CORONAVIRUS & 'Real Threat to the Future of the Marketplace'

Nobody knows how ANY sector of the economy is going to do coming out of the quarantine, but comic retailers were already hanging on for dear life, so chances are the comics industry is going to look VERY different on the other side. This might be the end of the "floppy" or "pamphlet" comics. Stores may have to pivot to book/collection sales. Much smarter minds than mine are trying to figure it out and we just don't know. In the meantime, if you have a local comic shop, know that many of them are offering curbside delivery. Call to inquire. If that doesn't feel safe, here are comic shops that offer mail order.

Comic SHOPS most need your support right now, but if that's a burden you can still get your books digitally.

Have you seen any of the HISTORIA preview art Phil Jimenez has been posting on instagram? I'm not certain of this, but I believe the first 64-page installment will be out this summer to coincide with the new Wonder Woman movie. Assuming movies still happen? Who knows.

More Bitch Planet is in the works. I know that's the book you want. I hear you.
This has gotten long, so I'm calling it and returning you to your life. If you have an questions, replies or requests YOU CAN REPLY TO THIS EMAIL.

Be safe and be well. You are loved.